This paper looks at the phenomenon of Quantified Self and life blogging as a possible template and inspiration for recording psychoanalytical sessions and dreams.
If you have experienced psychoanalysis, you might have asked yourself this question, at some point during your second, third or fourth year of it: how much do I remember? What is it that I remember most vividly?
Chances are, you will be surprised to realize how visual your memories are. Perhaps it is the room where your sessions took place: the arrangement of the furniture, the color of the walls. Your therapist's figure, sitting motionlessly in a chair. Or on the contrary, perhaps your therapist gesticulates a lot.
And of course, you dreams, memories, and free associations.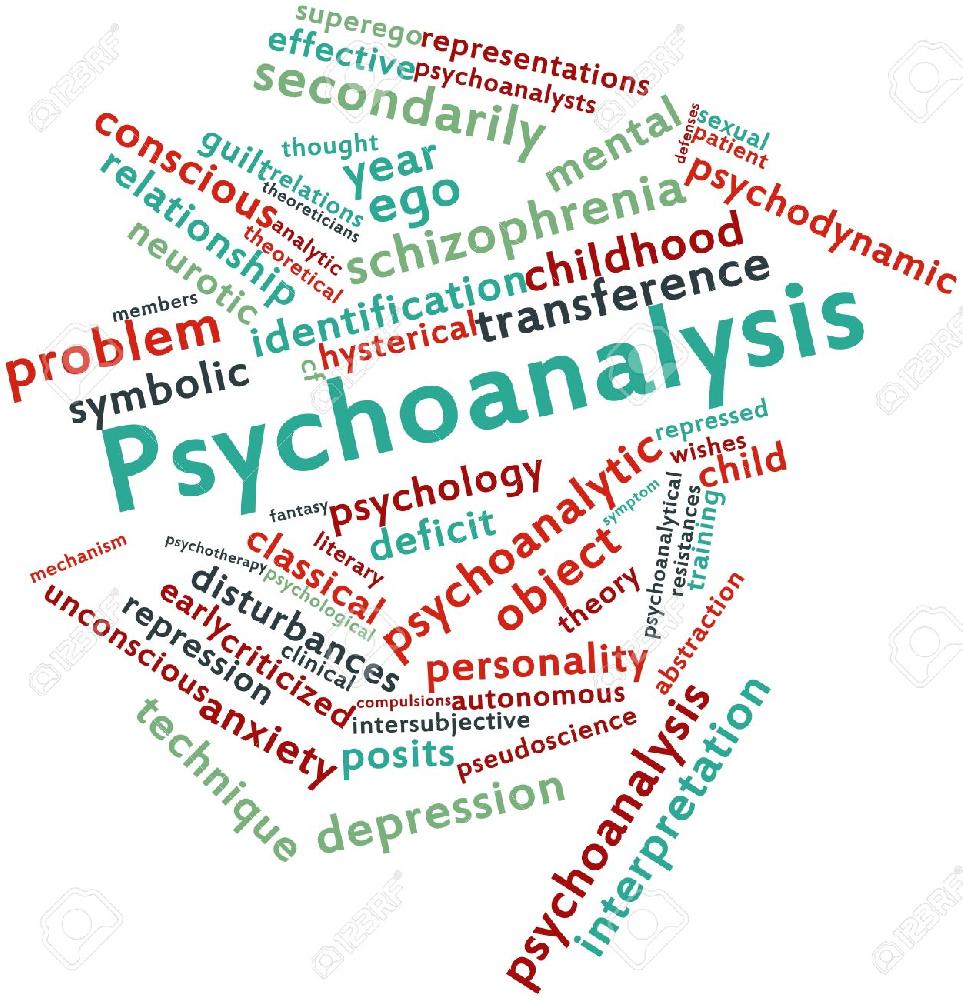 Source: http://www.123rf.com/
According to Levenson (2003), the data in psychoanalysis is organized along visual-spatial lines. However, historically psychoanalysis has been prioritizing verbal over visual and firmly grounding itself in verbal interpretations. While visual interpretations might not be ideal for severe psychotic patients, it seems that for clients who stay more or less in touch with reality, accessing and working with imagery can be very beneficial.
From sports to music therapy, guided imagery and visualization have been seen as a helpful tool to success and improved mental health:
http://www.appliedsportpsych.org/resource-center/resources-for-athletes/sport-imagery-training/
http://wwwhealthjourneys.com/WhatIsGuidedImagery
http://www.gim-trainings.com/about.html
So what are the possible venues for using data visualization and better data capture and storage in psychoanalysis?
The QS, or
Quantified Self
area of human behavior has gained popularity in the last decade. The applications of QS, such as
LifeLog
or
MyLifeBits,
strive to convince people to change their life patterns that have to do with health, fitness, and mood. The movement goes back to the 1990s, when lifelogging, or the practice of digital recording of one's day-to-day experiences (sleep patterns, workout, mood, eating habits, etc.) gained popularity (Marcengo&Rapp, 2014). Lifelogging offers options for either wearable devices or mobile/web apps.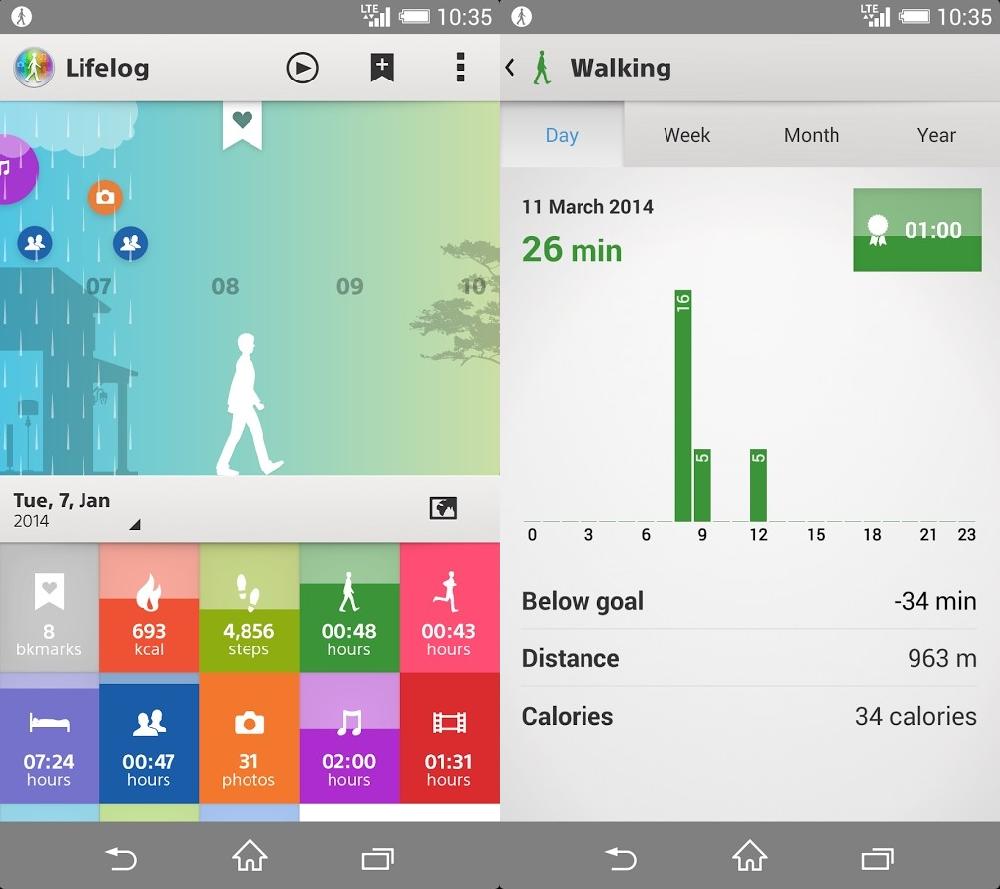 MyLifeBits is a product developed by Microsoft. Initially, it focused on capturing and storing scanned and encoded archival material like articles, books, music, photos, video, as well as digital-born files. It evolved to encompass the goal of storing everything that could be captured.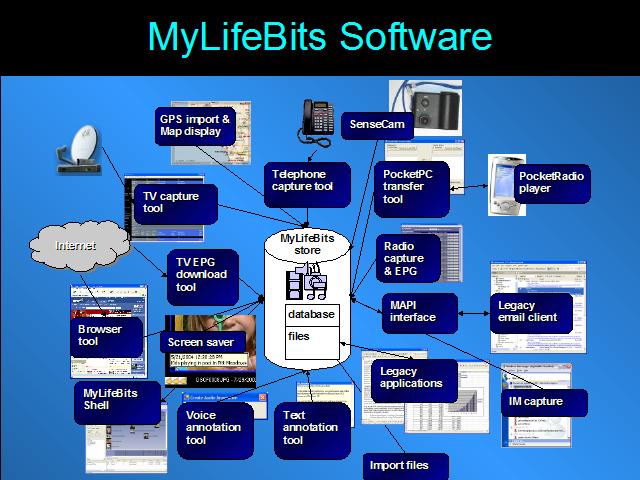 The usage of the lifelogging devices can be both
very helpful and challenging. While it might be helpful to track down one's
health, the tendency to do it every day might become a certain level of
obsessiveness and unnecessary stress. Similarly to the way we tend to check our
email and phone every time we have the opportunity, we might also be tempted to
do it with our vitals. Not to mention the issues of privacy: should this
information be disclosed to medical professionals, and if yes, under what
circumstances? Also, do not forget that it is a multi-million-dollar industry. At
the end of the day, who is going to own this massive data?
There seems to be no conclusive evidence regarding
the effectiveness of QS or lifeblogging in terms of behavior change. The CEOs of
companies selling QS devices can be hardly seen as sources of reliable
information - their position is too biased. One thing that seems to unite the
customers is that they do not know what to do with all this data (Kashmir Hill,
Forbes.com, 2011).
While the quantitative approach is more characteristic for CBT (Cognitive Behavioral therapy), which is rooted in scientific evidence and attempts to change unhelpful behavior and mode of thinking, I would like to argue that even method like psychoanalysis, which is not grounded in clinical data or solid empirical evidence and is very subjective, can benefit from using some methods of visualization of data, if only with the purpose of being able to recollect the content of the sessions.
The time frame of psychoanalytical treatment is very different from the CBT or other evidence-based forms of treatment. It might take years. Moreover, psychoanalytically trained therapists usually resist providing a treatment plan. While setting the goals is supported, there is no specific way to do a follow-up and an evaluation of the effectiveness of a treatment.
From the point of view of a client, it is extremely daunting to embark on a journey like that without giving a thought to the question of how to keep track of at least part of what arises during a session.
Recording the session is one possibility, provided therapist's permission. However, what does one do then with hours and hours of recordings? Searching through those for a break-through moment is going to be a challenge. Taking notes, perhaps? Creating a mind palace/memory theatre, as artistically expressed by Benedict Cumberbatch in Sherlock (2011)?
Having done a brief review of the apps for therapy clients and dreamers, I came to the conclusion that all of them have serious technical drawbacks and probably have not been properly tested (Dreamboard.com; Therapy Buddy app). However, even in the absence of reliable apps, some self-monitoring techniques can be created and introduced.
At the very least, be sure to write down the dreams and perhaps some important concepts that come up during therapy. Inputting those into the Textexture, Wordle or a similar cloud program is an easy way of bringing part of internal process to the surface.
Samples of my dreams in Textexture/Wordle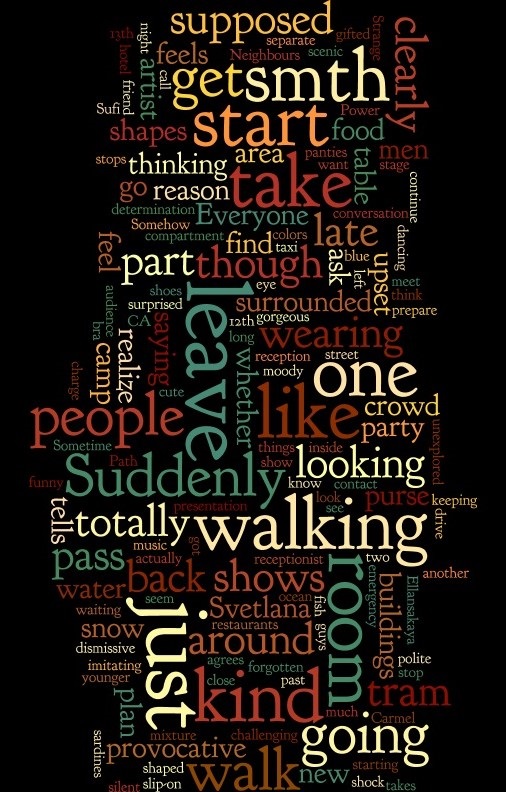 Wordle: a sample of one dream from 2010

Textexture: a sample of about 20 dreams from 2009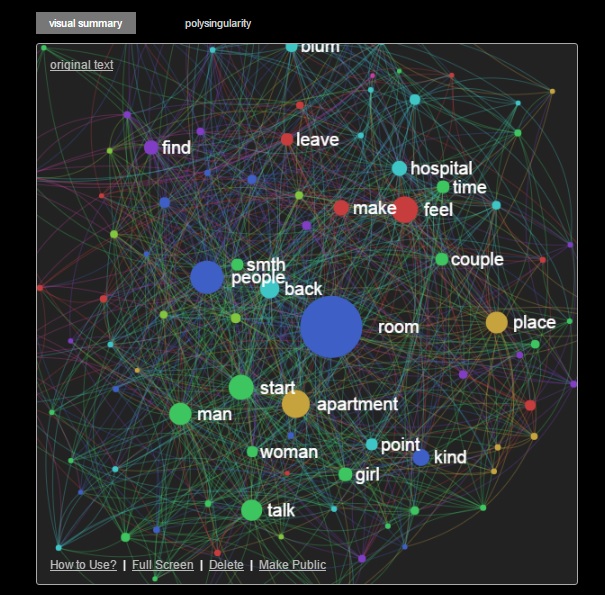 The QS approach to monitoring one's health and life in general is in fashion. However, it seems that its success is only impressive when it is supported by real change in human's behavior, and not just a shallow tendency to gather more and more information and record every second of any given day. When collecting information becomes a coping strategy, the meaning is diluted or perhaps even lost.
Regardless of what science says, there always are going to be people who adhere to psychoanalysis and believe that it works. For them, the "quick fix" of CBT is not going to be an ideal way of dealing with one's psyche. Our minds are too complex, and we are only partly rational beings. A balanced approach to one's inner life should include, it seems, both technical innovation and old and time-consuming traditions of soul-searching.
Levenson, Edgar A. (2003). On Seeing What Is Said, in: Contemporary Psychoanalysis, 39:2, 233-249.
Marcengo, A. (2014). Visualization of Human Behavior Data: the Quantified Self, in: Innovative Approaches of Data Visualization and Visual Analytics, ed. Huang, Mao Lin.

Hershey, PA: Information Science Reference, an imprint of IGI Global.
Websites
General Reviews
Kashmir Hill, Adventures in Self-Surveillance, aka the Quantified Self, aka Extreme Navel Gazing. April 7, 2011. Accessed December 12, 2015. http://www.forbes.com/sites/kashmirhill/2011/04/07/adventures-in-self-surveillance-aka-the-quantified-self-aka-extreme-navel-gazing/
Apps used
Apps
"Lifelog: SonyMobile communications". Accessed December 6, 2015, https://play.google.com/store/apps/details?id=com.sonymobile.lifelog&hl=en
"My Life Bits: a Personal Database for Everything", by Jim Gemmell, Gordon Bell, and Roger Lueder, January 2006. Accessed December 6, 2015,
http://research.microsoft.com/apps/pubs/default.aspx?id=64157
Lifestream Blog. Accessed December 6, 2015, http://lifestreamblog.com/lifelogging/